After Medi-Cal Denial, A Win for Uninsured El Centro Resident
Imagen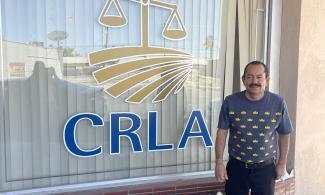 Body paragraph
High Price for Health for Uninsured Californians
On an August day in 2017, Juan D. of El Centro, California suffered a heart attack. He was transported from Imperial County to San Diego where he underwent emergency open heart surgery.
Juan was only 56 years old at the time and the surgery saved his life. Unfortunately, he was among the estimated 2.9 million uninsured Californians at the time of his medical services. He received medical bills totaling more than $300,000.
CRLA Steps In After Medi-Cal Denial
Juan applied for Medi-Cal but was denied coverage for August due to verification issues related to his residency. Medi-Cal coverage was only granted for the month of September—no help with the impossible amount of bills due. He filed for a hearing to contest the denial of coverage for August and contacted CRLA's El Centro office for assistance.
CRLA staff contacted Imperial County's hearing analyst and assisted Juan with verifying his California residency for the month of August. As a result, the County granted coverage for the emergency services the client received in August under the County Medical Services Program (CMSP), which provides health coverage for indigent individuals. 
CRLA staff also assisted Juan with contacting all medical providers to inform them to submit their claims to CMSP.
Win: County Program Covers All Medical Bills
Their efforts were successful: CMSP covered all medical bills including hospital, helicopter transportation, radiology, and anesthesia.
With CRLA's help to resolve his eligibility for coverage, Juan saved a total of $363,803.21 and avoided collections or other legal actions for payment.