Jessica M. Jewell takes helm of CRLA, Inc., largest legal aid organization serving rural California
Imagen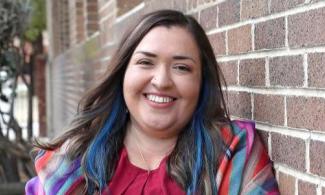 Body paragraph
For Immediate Release: March 16, 2023
Media Contact:
Mia L. Murrietta
Director of Communications
Phone: (559) 441-8721 ext. 1011
Email address: mmurrietta@crla.org
Central Valley leader takes helm of largest legal aid organization serving rural California
Modesto-based attorney Jessica M. Jewell, first woman to lead California Rural Legal Assistance, Inc., sees power of rural residents to shape civil rights in post-COVID climate change era
MODESTO, CA, MARCH 16, 2023 - California Rural Legal Assistance, Inc. (CRLA) is the leading civil legal aid organization serving rural California's diverse low-income communities with seventeen offices spanning the state, from El Centro in the Imperial Valley to Santa Rosa and Marysville in the north, to the Central Valley and Central Coast. Last month, attorney Jessica M. Jewell became the seventh executive director in the organization's history and the first woman to hold the role.
Ms. Jewell begins her executive directorship at a time when crises like climate disruption and the COVID-19 pandemic are driving major changes in California's rural counties, including housing, healthcare, warehousing and distribution, agriculture, water management, and energy. She sees an opportunity for California to be a leader by ensuring those changes also address inequality.
"I am deeply honored to serve CRLA as executive director and carry on our legacy of dismantling systemic injustice and inequity by fighting alongside impacted communities," Ms. Jewell said. "We listen to a client's experience and make connections so we can address their immediate need for legal services and, at the same time, change conditions so more people's rights are protected."
California has the fifth largest economy in the world but also the highest poverty rate in the United States under the U.S. Census Bureau's Supplemental Poverty Measure. Nearly one in five Californians live in poverty, and rural counties are the most under-resourced.
"The poverty we see in California's rural counties today is not accidental," Ms. Jewell pointed out. "It's the result of systemic discrimination and disinvestment in communities where low-wage workers, immigrants, and people of color live.
"Look at what happened last Friday: A bank in Silicon Valley failed and almost immediately got federal support and an investment of publicly held resources so that by Monday, depositors knew that all their money was safe, even beyond the usual $250,000 insured by the U.S. government.
"That same Friday, communities in the Pajaro Valley were flooded due to a levee breach that had knowingly gone unaddressed and uninvested in for decades because the people who live there are low-wage workers. Now they are temporarily and possibly permanently displaced from their community, homes, and jobs."
Since its founding in 1966, CRLA has committed fifty percent of staff time and resources to direct legal services for low-income clients and fifty percent to impact litigation that addresses root causes of poverty. The organization has a strong history of pivotal civil rights advocacy in housing, employment, K-12 education, healthcare access, community development, and environmental justice.
The experiences and needs of rural communities continue to shape CRLA's emerging areas of practice, including mobile home parks, reentry, and disaster relief.
Ms. Jewell noted, "Three years ago, when the pandemic stay at home orders were first issued, low-wage workers in places like Planada and Pajaro were told they were 'essential workers' who had to keep working even in the face of a deadly pandemic. Many could not access healthcare or afford the food they were harvesting that kept millions of other people healthy. Now, they are without homes because for decades their communities were deemed unworthy of investment in basic safety and infrastructure like levees and storm drains."
Ms. Jewell was raised in Riverbank, CA outside Modesto. Growing up in an immigrant working-class family, she saw the strengths of rural communities as well as the systemic barriers that could destabilize families and worsen poverty. After an internship with CRLA's Agricultural Worker Program, she joined CRLA as a community worker launching a clinic serving unrepresented tenants facing eviction in partnership with the Stanislaus County Court while she earned her law degree at Laurence Drivon School of Law in Stockton, CA. Ms. Jewell then returned to CRLA's Agricultural Worker Program as a staff attorney. She served as directing attorney in Modesto, regional director of advocacy, legal director of CRLA's Rural Justice Unit, and deputy director before being selected by CRLA's board of directors to succeed José Padilla as executive director this year.
"California is changing, and the diverse communities that make up rural California have the power to shape that change," Ms. Jewell emphasized.
"We want more people to know that CRLA provides free legal services to income-qualified applicants. CRLA is here to fight alongside those who reject systems of oppression and seek to enforce their rights. Even if you don't qualify for our services, our staff have many connections in local communities where they can refer you. You could get help for yourself and also contribute to changes that can help many more people."
People in need of legal services can visit crla.org for office locations or call 1-800-337-0690.
###
About California Rural Legal Assistance, Inc.
California Rural Legal Assistance, Inc. (CRLA) provides free legal services and education to tens of thousands of low-income residents of California's rural counties and litigates cases that benefit even more people. We help our clients get fair pay for their hard work, find and stay in safe housing, access healthcare, ensure quality education for their children, and more. Our vision is a rural California where all people are treated with dignity and respect and guaranteed their fundamental rights. For more information, please visit crla.org.