My Last Ask As Executive Director
Imagen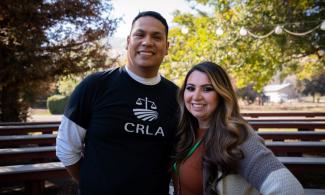 Body paragraph
In every season and circumstance of life, each of us can contribute different resources—money, expertise, time. When we're young and may have less money or expertise, we can give our time. If a successful career puts high demands on our time and expertise, we can give money. Later in life, we may be blessed with time, expertise, and money to give.  
Over my 44 years at CRLA, I've seen thousands of people choose to give their resources to create a California where all people are respected and guaranteed their fundamental rights. Some of those people were clients, some were CRLA staff members, and some were supporters like you.
Of course, this is a fundraising message (in fact, it's the last one that I will write to you as CRLA's executive director before I retire at the end of this week) so today I invite you to give of your financial resources.
CRLA's work is critical now, when the people who were most impacted by the COVID-19 pandemic are further impacted by the highest inflation in 40 years.
Among them are the people who harvest your food, care for your children or elders, ring up your purchases or pack them for shipping. Their contributions to our collective well-being are worth many times the size of their paychecks, and CRLA is using the law to meet their unique needs and benefit others in the process. That is the CRLA I committed to.
Please make a year-end gift to ensure CRLA continues to provide free legal services, advocacy, and education and fight for justice alongside low-income rural Californians. You can visit crla.org/donate or call 510-267-0762 x1028 to donate.
Thank you for your support of CRLA. I wish you and your loved ones a happy and healthy holiday season and new year. I hope to meet again as we continue on this Justice road together.
Adelante creando luz,
Forward creating light,
José R. Padilla
Executive Director