Our Advocacy Will Not Be Derailed by Hate
Imagen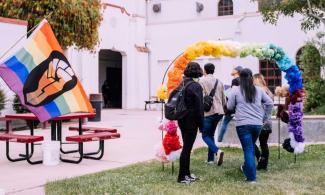 Body paragraph
To our community of supporters and allies:
We are disappointed that once again the LGBTQ+ community of Stanislaus County, including our employees and clients, will be subjected to a "Straight Pride Rally." The rally is organized by the white nationalist Proud Boys extremist group, among others, and in previous years resulted in violence against community members who were showing their support for a more inclusive community.
At CRLA, our vision is a rural California where all people are treated with dignity and respect and guaranteed their fundamental rights. We fight for community-led justice that seeks to break down structural inequity and discrimination in the U.S. justice system and society. We fight alongside LGBTQ+ individuals seeking fair housing, safe workplaces, the right to access healthcare, and the inherent dignity to be seen and known for who they truly are.
CRLA staff and volunteers are proud to be members or allies of the LGBTQ+ community and our advocacy will not be derailed by a demonstration of hate seeping into the communities we serve. We will continue to be here for LGBTQ+ people who seek civil legal services, and we stand with our friends at Pride Centers creating brave spaces across rural California.
The organizers of this event tout themselves as "peaceful," but peace is inherently at odds with bigotry, homophobia, transphobia, racism, and hate. As bell hooks taught us, "the moment we choose to love we begin to move towards freedom, to act in ways that liberate ourselves and others."
In solidarity and with love,
José Padilla
Executive Director