Welcome CRLA's New Executive Director
Imagen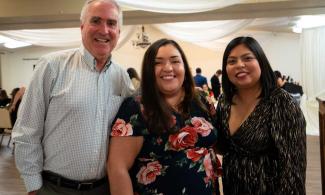 Body paragraph
The Board of Directors of California Rural Legal Assistance, Inc. (CRLA) is pleased to welcome Jessica Jewell as its next Executive Director. Ms. Jewell (pictured above, center) has dedicated her career to legal aid and currently oversees statewide operations as a Deputy Director at CRLA. She will assume the role of Executive Director on January 28, 2023.
"Jessica Jewell's expertise, leadership skills, commitment to racial and social equity, and experience with the organization's partners and funders make her an exceptional individual for the role," said CRLA Board Chair Roberto de la Rosa, Jr. "We are confident that under her leadership, the organization's success and impact in achieving its mission and vision will continue to flourish."
CRLA's Executive Director is charged with strategic leadership, management, and successful day-to-day operations for the organization, overseeing 17 offices statewide. CRLA is the leading civil legal aid organization serving rural California's diverse low-income communities, and Ms. Jewell is poised to lead CRLA to achieve its vision of a rural California where all people are treated with dignity and respect and guaranteed their fundamental rights.
Raised in the Central Valley in Riverbank, California as part of an immigrant working-class family, Ms. Jewell formed a passion early on for working alongside her community. CRLA staff who have had the privilege of working with Ms. Jewell know first-hand her deep commitment to the communities CRLA serves and to the employees who make up the CRLA team. With over a decade's experience in multiple positions at CRLA, Ms. Jewell brings the skills and expertise needed to create and implement a visionary long-range strategic plan for the organization.
"Having grown up in the communities that are served by CRLA and 'grown up' in legal aid, I'm thrilled to bring my lived experience and work experience to this new role," said Ms. Jewell. "I'm excited to build on the legacy CRLA has built over the past four decades under Jose Padilla's leadership. We have an incredible team of leaders, advocates, and social justice fighters who will continue to do critical work to change lives. CRLA, alongside our clients, has the capacity to radically change the future of rural Californians. Together we can eradicate poverty, dismantle systems of oppression, and build the future we want to see and that we and our clients deserve."
Longtime Executive Director Jose Padilla announced his plans to retire in June and steps down at the end of 2022. "With confidence I pass on the torch of service to the rural poor we all come to serve," said Mr. Padilla. "I give Jessica Jewell 'la Bienvenida,' the good welcome into the Directorship I am leaving. I know that I leave CRLA in good hands and heart, knowing that her resolve will shape Justice in even stronger ways going forward.'  
In June 2022, CRLA's board of Directors formed a search committee and conducted a national search to identify CRLA's next leader. After an extensive search process, the board selected internal candidate Jessica Jewell to lead CRLA.
Between Jose Padilla's December 31, 2022 retirement and Jessica Jewell's January 28, 2023 start as Executive Director, Deputy Director Michael Meuter will fill the role as Interim Executive Director, a duty he has taken on in the past.  
Board Member and Search Committee Chair Antonio Valladolid commented, "Jessica Jewell's exceptional life journey has supremely prepared her for this moment. Her compassion, intelligence, and wisdom augur well for the future of CRLA! The Board of Directors, in collaboration with our extraordinary staff, conducted a diligent and thorough search to fill the CRLA Executive Director position.  The Board voted unanimously to place our unconditional trust in Jessica Jewell's leadership and expect only great things from her stewardship."
###