The next phase of my justice journey
Imagen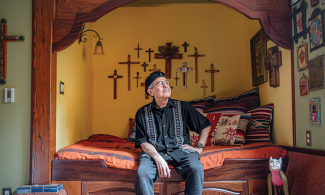 Body paragraph
Thirty-eight years ago, the CRLA Board of Directors gave me the privilege of serving as CRLA's state-wide Executive Director. This came after I had been a CRLA staff attorney and then Directing Attorney of our El Centro border office for six years. Working at CRLA had always been a personal privilege because it was in rural Imperial County where I was raised and where my parents and grandparents had been farmworkers since the 1920's, having migrated from central and peninsular Mexico to work in the agricultural fields of California.
I recently informed the CRLA Board of my intention to retire at the end of December 2022. As was done when I was selected to lead CRLA, the Board will work with a search firm to conduct a national search for CRLA's next executive director. I will continue through December to ensure a successful transition with CRA's new leadership.
Throughout my justice journey, I have steered CRLA through "thick and thin." Being a legal organization representing the most vulnerable in our society can have political consequences when the legal victories come against the powerful economic interests of rural industries like dairy and farm businesses, who would subjugate the rights of low-wage workers and agricultural workers in particular. Because of our successful wage cases, I was required to defend CRLA before Congress in 2004 and give testimony before a House Oversight Committee that recommended national legal aid funding. We were successful.
Despite many challenges over four decades of justice work, there have been many more successful moments and those are the ones I cherish in looking back, including:
Advocacy that led to the passage of the Immigration Reform and Control Act of 1986, which enabled more than two million immigrants to gain legalization and permanent residence
Creation of new programs to assist vulnerable rural communities, among them Indigenous farmworkers and LGBTQ+ clients
Leading-edge defense of the rights of sexually harassed farmworker women that brought multi-million-dollar settlements for our clients
I am deeply grateful and proud of the CRLA attorneys and community workers who advocated as I steered the Justice boat. And throughout, the support of the CRLA Board allowed me to work with CRLA's committed advocates to achieve these successes, and our communities were better for it.
But as I have said so many times before, the CRLA family is much broader, and must include our many friends and supporters—you are a vital part of the CRLA family because CRLA must be financially stable and healthy to do this good work.
Thank you for your unwavering support and for being there alongside as we sought to be true to CRLA's mission and vision of creating a rural California where all people, regardless of income, are treated with dignity and respect and guaranteed the fundamental rights enjoyed by all persons who call this country ours.
Adelante Creando Luz!
Jose Padilla
Executive Director